Jujube, either of two species of small spiny trees of the genus Ziziphus (family Rhamnaceae) and their fruit. Jujube fruits are eaten fresh, dried, boiled, stewed, and baked and are used to flavour tea. When made into glacé fruits by boiling in honey and sugar syrup, they resemble Persian dates and are sometimes known as Chinese dates. Juice obtained from the fruits is used in making small candies called jujubes. The raw fruits are high in vitamin C.
Most are varieties of the common jujube, native to China, where they have been cultivated for more than 4,000 years. This species, 7.6 to 9 metres (25 to 30 feet) high, has alternate, three-veined, elliptical to ovate leaves 2.5 to 7.6 cm (1 to 3 inches) long. The small yellow flowers are followed by dark brown, round to oblong fruits the size of small plums. The crisp white pulp surrounds a single large pointed stone.
The Indian, or cottony, jujube differs from the common jujube in having leaves that are woolly beneath instead of smooth. The fruits are smaller and not so sweet. Both species thrive in hot dry climates where winter temperatures do not go below 9.4 °C (49 °F). The trees are resistant to a great number of pests. Propagation is by seeds, although the commercial varieties must be propagated vegetatively by suckers, root cuttings, or grafting. Wild jujube and Christ's thorn jujube are related species, though not commonly cultivated.
Jujube fruit, a 4000-year-old fruit , is a mystical fruit. Originating from China, the fruit is widely used for alternative medicine in China. The jujube tree, known as the fruit of immortality , grows around Lake Kinneret, which is also mentioned in the Torah and the Bible and is considered sacred. Jujube, which has been used as the favorite fruit of those who deal with alternative medicine for centuries, plays an active role in the prevention of many diseases with its components that support the immune system.
Jujube, which is the fruit of a thorny tree 4-5 meters high with fragrant and yellow flowers, grows in April and May . Jujube skins , which have hard seeds, are red in color and taste like apples . The fruit, which is the size of a large olive, can be found in the wild as well as grown in gardens.
The homeland of jujube is Syria . Jujube can be consumed fresh or dried as jujube herbal tea. Dried jujube is a traditional flavor consumed alongside tea in some regions as a snack. Jujube, which can also be used as an ornament on desserts, is an important fruit with its different aroma and taste as well as health benefits.
Jujube jam is a jam that is consumed with admiration because of its non-disperse grains. You can also make jujube pickle. Jujube varieties, which are distinguished from each other by their characteristics, are generally suitable for fresh consumption.
The jujube tree likes temperate climates and therefore jujube cultivation is done in the western and southern regions of our country. It can be grown with jujube seedlings as well as using jujube seeds. When is the jujube grown in many cities in our country , especially in Simav, Isparta, Denizli, Kütahya and Manisa, collected? Since September and October are the jujube season, the jujube harvested in these months begins to take its place in the markets. Jujubes collected during jujube are generally consumed fresh. Jujube plant can be found fresh at certain times of the year, but dried jujube can be consumed at any time of the year. Jujube leaf is also one of the plants that can be consumed as tea. Jujube leaves are collected and dried and used for problems such as bronchitis and asthma. The jujube seed contained in the jujube seed is the basis of jujube cultivation . By using these seeds, jujubes are germinated. Jujubes grown with this method are of higher quality and safer.
What is Jujube Calorie and Nutritional Value?
Jujube is a fruit rich in nutritional value. Jujube is a vitamin store containing triterpenic acid, polysaccharide, flavonoid, phenol compounds, vitamin C, vitamin A, niacin, potassium, phosphorus, calcium and many other antioxidant compounds. Jujube leaves and fruit are rich in apigenin, rutin and catechin phenols. Fresh and dried jujube differ in calorie and nutrient content. How many calories does 1 jujube contain? 1 serving, approximately 60 grams of fresh jujube contains 44 calories, while the same amount of dry jujube contains 160 calories. Losing weight with jujube can be due to its ability to remove toxic substances from the body.
Jujube, which also has edema-reducing properties, can be used in slimming diets. Jujube cure can be made for its high cholesterol-lowering effect. In order to reduce cholesterol, it is recommended to drink about 6 grams of jujube by boiling 4 glasses of milk throughout the day.

What are the Benefits of Jujube?
It has an auxiliary role in the treatment of stress and depression. It has a regulating effect on sleep problems.
With its antioxidant properties, it supports the treatment of many diseases from liver dysfunction to cancer.
Its positive effects in the treatment of skin diseases are among the benefits of jujube.
Jujube fruit benefits include regulation of the digestive system. It helps to lose weight by increasing bowel movements.
Calcium and phosphorus in its content are among the benefits of jujube to protect bone and dental health.
The niacin it contains regulates blood circulation. Regular consumption of jujube accelerates blood flow.
Among the benefits of jujube, there is also a protective effect on heart health.
Jujube is a fruit that is beneficial for sugar. Due to the fiber it contains, it allows the blood sugar to rise gradually.
What are the Benefits of Jujube Vinegar?
In order to benefit from the benefits of jujube vinegar, it is necessary to make a vinegar grown in a natural environment and fermented by natural methods. Jujube vinegar can be consumed as an aromatic flavor in salads and cold dishes.
Jujube vinegar regulates the nervous system thanks to its antidepressant properties.
It has an active role in cell regeneration and positively affects the treatment of many diseases, especially cancer.
By showing an antioxidant effect on skin aging, it slows down the formation of wrinkles and prevents the skin from flaking.
Energizing jujube vinegar has blood cleansing properties.
It increases the body's immune system and reduces the risk of getting diseases by supporting the body's resistance. It also draws attention with its expectorant properties.
Jujube vinegar, which also plays an active role in the regulation of blood pressure, accelerates the removal of edema from the body with its diuretic feature.

What Are the Harms of Jujube?
There are no side effects associated with excessive consumption of jujube . However, it is recommended that those who have a chronic disease and those who use drugs constantly should be careful when consuming jujube. It is beneficial for those who are in this situation to consume jujube under the supervision of a doctor. As with any nutrient, excessive consumption can be harmful. It is especially important for women who are during pregnancy and breastfeeding to be careful when consuming jujube. In excessive consumption, allergy effects, diarrhea and accelerating blood flow may be among the harms of jujube.

How to Dry Jujube?
Jujube fruit is collected after fully ripening. Dried jujubes prepared from immature jujubes are not recommended in terms of both taste and value. The collected jujubes are laid out on clean cloths without washing and dried in the sun. Jujubes that dry out within a week are collected and stored in a cloth bag or in a glass jar in areas that are not exposed to sunlight and moisture. Jujube can mold in humid environments. Dried jujube is generally consumed as a snack alongside tea. In addition, dried jujube fruits can be prepared with tea and put into desserts.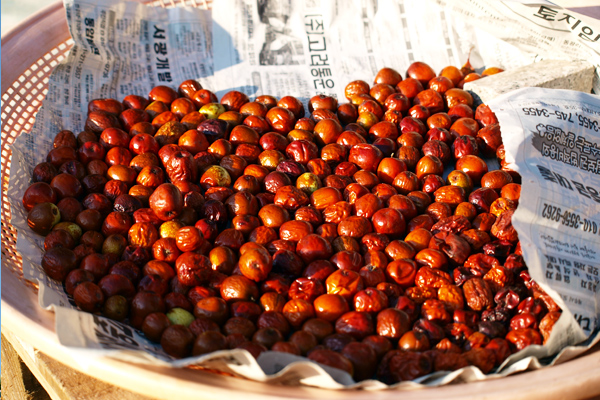 Where to find the jujube, which has made a name for itself with its benefits ? Jujube is available fresh in September and October in markets, shopping malls, greengrocers, shops selling organic products and companies that sell products online over the internet. Jujube, which can be found in almost every market in the cities where it is grown, is usually found more frequently in big shopping centers or markets selling local products in big cities. Dried jujube, which you can buy at herbalists every day of the year, can be purchased from shops selling organic products and online companies selling products. You can also buy fresh jujube from the region in season and dry it yourself. After the very easy jujube drying process, you can consume jujube under appropriate storage conditions throughout the year.